When Pastor Bob Enyart invited me to continue this discussion, he promised that he had an answer to my 'Phylogeny Challenge'. Unfortunately he still doesn't know what the question is. In the preceding portion of this discussion, I asked him to explain it. I expected him to play a clip from the
Phylogeny Challenge
video,where (from 8:40 on) I explain exactly what the challenge is. Instead, Bob played two separate audio clips from the
wrong video
, and thought that was it. The clips he played were just statements of fact which contained no challenge. So at the start of
part 6
, Bob opens on yet another false assumption based on really inattentive research.
Everything we see in nature consistently adheres to everything we would expect of a chain of inherited variations carried down through flowering lines of decent. ...Because the phylogenetic tree of life is plainly evident from the bottom up to any objective observer who dares to compare the anatomy of different sets of collective life-forms. But it can be just as objectively doubly-confirmed from the top down when re-examined genetically."



There is overwhelming testimony from evolutionary biologists that everything you just said is completely wrong, and I have in front of me quotes and specifics. You might claim that I'm taking them out of context, but I'll post the references on this show's summary. I am not taking it out of context. The very day that the testimony was taken in Texas, (I mentioned January 21st 2009) that very day,

New Scientist

published a cover story on the tree of life. And that cover story goes through the proceedings of the N.A.S. and Nature and Science, and everybody, and it quotes an army of evolutionary biologists who say that genetically the tree of life lies in tatters, that it's being cut down.


Yes, I remember that article because they were talking about the horizontal gene transfer that I brought up in the beginning of the 10th foundational falsehood of creationism.




I know, and I watched that very carefully, but your assertion that genetics covers the tree of life is false, and I can establish that.
No sir. Your reference to, and reliance on, trite sensationalism shamelessly promoted by a popular magazine will not change the fact that genetics has already irrevocably confirmed a network of evolutionary ancestry for many different lineages of life. The reason I referred you to my videos on
caniforme
and
feliforme
phylogeny is because both of those videos prove the point, by examining and explaining published peer-revewed genetic analyses:
Mitogenomic analyses of caniform relationships,
Science Direct
The Evolution of Cats,
Scientific American
Molecular Phylogeny of the Carnivora (Mammalia) -
Oxford Journal of Systematic Biology
Likewise my
Phylogeny Challenge
video also cites several juried papers in peer-reviewed journals:
A Molecular Phylogeny of Living Primates
Human and Non-Human Primate Genomes Share Hotspots of Positive Selection
Lineage-Specific Gene Duplication and Loss in Human and Great Ape Evolution
A Human-Specific

De Novo

Protein-Coding Gene Associated with Human Brain Functions
Human-specific loss of regulatory DNA and the evolution of human-specific traits
If you look up each of the listed citations above, you'll see a series of associated studies, none of which could even exist if your 'understanding' of the New Science article was correct. But they do exist, so my point is already proven, and genomic research continues to confirm evolutionary phylogenies.
"Comparison of whole genome sequences provides a highly detailed view of how organisms are related to each other at the genetic level. How are genomes compared and what can these findings tell us about how the overall structure of genes and genomes have evolved? Comparative genomics also provides a powerful tool for studying evolutionary changes among organisms, helping to identify genes that are conserved or common among species, as well as genes that give each organism its unique characteristics."
-
Nature (2010)
If these evolutionary biologists are right, then you're wrong, Aron. And genetics tears apart the tree of life, tears it apart. That's why they published a story titled, "Darwin was Wrong on the tree of life".




I remember the story, and I know what it pertains to; it pertained to, -it took the root out of the tree of life.




No! It took the whole branches, the twigs!




No, it took the root!




It slaughtered them!




Just that!




No, you're wrong. You didn't read it. You're wrong. The last time I read it was today. I read the whole article.
Then how did you miss the linked editorial at the very beginning,
Uprooting Darwin's tree
? In case your subscription isn't up to date, here is an excerpt.
" We now gaze on a biological world of mind-boggling complexity that exposes the shortcomings of familiar, tidy concepts such as species, gene and organism.
A particularly pertinent example is provided in this week's cover story - the uprooting of the tree of life which Darwin used as an organising principle and which has been a central tenet of biology ever since (see "Axing Darwin's tree"). Most biologists now accept that the tree is not a fact of nature - it is something we impose on nature in an attempt to make the task of understanding it more tractable."
How did you miss this part of the article itself?
"Microbes have been living on Earth for at least 3.8 billion years; multicellular organisms didn't appear until about 630 million years ago. Even today bacteria, archaea and unicellular eukaryotes make up at least 90 per cent of all known species, and by sheer weight of numbers almost all of the living things on Earth are microbes. It would be perverse to claim that the evolution of life on Earth resembles a tree just because multicellular life evolved that way.

If there is a tree of life, it's a small anomalous structure growing out of the web of life," says John Dupré, a philosopher of biology at the University of Exeter, UK."
So the article says the phylogenetic tree has no root, just like I said. Obviously I have read this article after all, but it seems you have not. Either that, or you glean for talking points rather than reading for comprehension. You should at least have noticed that the article interviewed two camps; those who say that the tree analogy no longer applies if it can't account for all biota, and the second camp, who say the concept of an 'unrooted' tree still works,at least with regard to animals, if not all other multicellular organisms.
I am sure you're aware that
several scientists
immediately posted harsh criticism of New Science for their deliberately deceptive title and misleading cover art. The article itself is factually OK, but it is unnecessarily emotive and especially confusing to laymen, obviously. It doesn't explain anything as well as it should have, but it certainly doesn't say what you wish it did either. I know what it's really talking about, and I had already addressed these points months before that article even came out.
Did you see Dennet's reponse?
"Nothing in the article showed that the concept of the tree of life is unsound; only that it is more complicated than was realised before the advent of molecular genetics. It is still true that all of life arose from "a few forms or... one", as Darwin concluded in The Origin of Species. It is still true that it diversified by descent with modification via natural selection and other factors.
Of course there's a tree;

it's just more of a banyan than an oak at its single-celled-organism base.

The problem of horizontal gene-transfer in most non-bacterial species is not serious enough to obscure the branches we find by sequencing their DNA.
The accompanying editorial makes it clear that you knew perfectly well that your cover was handing the creationists a golden opportunity to mislead school boards, students and the general public about the status of evolutionary biology."
So let me tell you why these evolutionary biologists are saying that Darwin was wrong on the tree of life. Right? Let me give you some of the reasons. This is from the proceedings of the NAS: "European researches examined more than a half a million genes from 181 prokaryotes" (Now I know they don't have a nucleus.) ""¦and found that 80% of them could not be interpreted as forming the branches of a tree of life, 80%. This turns out to be the rule rather than the exception even for eukaryotes, even for organisms that have cells with a nucleus.
At the microbial level, yes it does. However multicellular organisms are better able to protect their genetic core, substantially minimizing occurrence of horizontal gene transfer from 80% closer to 8%.
"Believe it or not, 8% of human DNA is actually old virus DNA. Some viruses, called retroviruses, put their DNA into the DNA of the cells they infect. HIV is a virus like this.
-geneticist,
Carrie Metzinger
B.Sc., Bergmann Lab, Stamford University
The article also mentions the influence of occasional hybridization and fluke occurrences like a snake bite transferring genes. But these events are so rare and easily identifiable that they do not pose any significant impediment to phylogenetics.
The university of California at Davis has compared 2,000 genes that are common to humans, frogs, sea squirts, sea urchins, fruit flies, and nemotodes. In theory, they should have been able to use the gene sequences like you claim, to construct an evolutionary tree showing the relationships. They failed. The problem was that the different genes told contradictory stories.




I could spare us some time. It is what I told you at the beginning it was going to be,where it relates to viruses and horizontal gene transfer.




No! No! Were NOT viruses!
I guess your copy didn't include illustrations.
"This is a image of the more or less current tree of life showing the 5 kingdoms and how genetic inheritance is now thought to be not exactly vertical but also includes horizontal gene inheritance via at least virus infection and maybe other routes such as the incorporation of mitochondria and plastids as symbiotic partners within Eukaryote cells."
In addition to the description of the illustration, the article also said this:
"40 to 50 per cent of the human genome consists of DNA imported horizontally by viruses, some of which has taken on vital biological functions (New Scientist, 27 August 2008, p 38). The same is probably true of the genomes of other big animals."
Beyond that, the article implies that the reason Syvanen could not construct a consistent cladogram inclusive of all six organisms was because of a bizarre case of horizontal gene transfer at the apparent origin of one of them, turning into a genetic chimera. Remove tunicates from the mix and a cladogram is still easily traceable for the five remaining organisms. In fact, we can still even determine phylogenetic clades for most tunicates.
Just for your amusement:
"Thirty new complete 18S rRNA sequences were acquired from previously unsampled tunicate species, with special focus on groups presenting high evolutionary rate. The updated 18S rRNA dataset has been aligned with respect to the constraint on homology imposed by the rRNA secondary structure. A probabilistic framework of phylogenetic reconstruction was adopted to accommodate the particular evolutionary dynamics of this ribosomal marker. Detailed Bayesian analyses were conducted under the non-parametric CAT mixture model accounting for site-specific heterogeneity of the evolutionary process, and under RNA-specific doublet models accommodating the occurrence of compensatory substitutions in stem regions. Our results support the division of tunicates into three major clades: 1) Phlebobranchia + Thaliacea + Aplousobranchia, 2) Appendicularia, and 3) Stolidobranchia, but

the position of Appendicularia could not be firmly resolved.

Our study additionally reveals that most Aplousobranchia evolve at extremely high rates involving changes in secondary structure of their 18S rRNA, with the exception of the family Clavelinidae, which appears to be slowly evolving.

This extreme rate heterogeneity precluded resolving with certainty the exact phylogenetic placement of Aplousobranchia. Finally, the best fitting secondary-structure and CAT-mixture models suggest a sister-group relationship between Salpida and Pyrosomatida within Thaliacea."
-
BioMedCentral
Now you see that only Appendicularia could not be firmly resolved. Can you explain why Aplousobranchia evolves so much faster than the rest?
I know the article. I know what it means. I already told you"¦




You completely misrepresented what it means. It's about humans. It's about human DNA. That's what the article is about.
No it isn't. It's about how we should abandon the concept of a single universal common ancestor for all forms of life, or even all eukaryotes. It's about whether phylogenetics has become so complex that it can no longer be adequately represented using the analogy of a tree. In point of fact the analogy fails because there is no root, there is no trunk, and of course there are no leaves. As the article said, life doesn't grow vertically either. Only the branching pattern remains, and that is only applicable to multicellular organisms. Even then, there is still a degree of HGT and hybridization which can,albeit rarely- confuse the tree analogy. However,at least with multicellular organisms, hybridization can only occur between two species of the same genus, so even if it happened frequently, it still wouldn't be significant in any protracted depiction. Personally I prefer to render phylogeny as a
tumbleweed of life
'. I think it is more accurate, and even more helpful in its illustration of evolutionary relationships at least among animals, which is what paleontologists and other folk are most often concerned with. Envisioning phylogeny as a 'tree' is a traditional convention just like your own 'family tree', except the phylogenetic tree is still a much more accurate analogy than the 'tree' in genealogy.
This is my proof that your claim is wrong, that genetics proves the tree. That claim is wrong, and there are hundreds if not thousands of scientists who agree with me.
No there aren't. None of the scientists involved in this article agreed with you. Just to prove that, here is another excerpt from the editorial:
"As we celebrate the 200th anniversary of Darwin's birth, we await a third revolution that will see biology changed and strengthened. None of this should give succour to creationists, whose blinkered universe is doubtless already buzzing with the news that "New Scientist has announced Darwin was wrong". Expect to find excerpts ripped out of context and presented as evidence that biologists are deserting the theory of evolution en masse. They are not."
I suspect that "an army" consisting of "thousands of evolutionary scientists" don't really agree with you just like "every cosmologist in the world" didn't really agree with you either.
If we do a superficial analysis, right. If you looked at an animal that has dorsal fins, pectoral fins, and a fin tail, you'd say, "Look how close they are; the look the same", but then I tell you, well one's a dolphin and one's a shark, and you'd say "they're totally on opposite sides of the tree".




In the video for Falsifying Phylogeny, I go to explain the superficial similarities, the surface similarities don't matter. It's what's at the core,where you can tell that an ichthyosaur is a reptile, versus a whale that is a mammal, versus a tuna that is a fish.




The ultimate core is the DNA.
Then how do you explain the example situations I showed in the Phylogeny Challenge video? Where genomic sequencing confirmed the relationships determined by most morphological estimates, but also exposed and corrected errors in classifying bats, aardvarks, and pangolins?
How do you explain the fact that every multicellular organism we've ever found actually does file into a phylogenetic tree? As I explained in
Falsifying Phylogeny
, every fictional creature we've ever made up for movies or mythology holds traits which would violate taxonomy and effective falsify evolution, but nothing we've ever really found have traits that don't fit, or has presented that sort of challenge.
Furthermore, you continue to deny the fact that humans are formally classified as a subset of apes, and you contine to imagine "enormous differences" between chimp DNA and human DNA,no doubt based on multi-teir misconception of the Y-chromosome- but a codon-to-codon orthologue of greater than 96% is not an enormous difference. Whether you like it or not, humans
are
classified as apes
, and that fact was determined genetically.
You said you saw the 9th foundational falsehood of creationism, yet you didn't remember that there even was a definition. When I repeated it for you, you immediately dismissed it as invalid . It didn't matter to you that it really is the strictest definition of that word according to both evolutionary scientists and even other young earth creationists. In fact, the
website
that showed that definition is hosted by young earth creationist with an actual Ph.D. in biology. Interestingly the excuse you gave was an example of something that would not qualify as a transition, but which could also falsify evolution. The point is that you don't get to change the definition that is already universally accepted by both sides of this sadly laughable dispute. You're going to have to work with that one.
Now how many examples that I showed in the 9th FFoC actually do fit that definition?
Where did turtles come from? You can't name me the animal that turtles came from, with naming any textbook, or any paleontologist, leading paleontologist who would agree with you, because it's unknown; it's a supposed ancestor.
I have already shown you that in the 9th FFoC,which you said you watched, yet you don't seem to remember anything said or shown therein. This is fairly complicated and difficult to explain to someone who has no understanding of either cladistics or the wealth of fossils involved. You couldn't know anything about either of these without doing much more serious study than you have done or care to do. Honestly even a quick scan of
Wikipedia
could have answered this for you.
Turtles are a really old order, but they didn't just appear out of nowhere. There are precursers, but they have to meet precise criteria to qualify as potential ancestors or transitional species. All living reptiles (including birds) are classified as diapsids because their skulls have two temporal fenestra or at least vestiges indicating such. Turtles uniquely have none, and are thus classified as the only living anapsids.
The fossil record reveals that at the time when turtles appeared, there were many different species of anapsid reptiles, (another fact creationism cannot account for) and that most of these had apparently died out at the end of the Permian, in the worst extinction event in geologic history.
According to the law of monophyletic heirarchy, the first turtle would not also be the first anapsid, because turtles are highly derived and other anapsids were more generalized. So the ancestor of all turtles must be an earlier anapsid, one which shares special affinity with turtles. It turns out the fossil record reveals two closely-allied stem groups which show these tendencies, pareiasaurs and diadectids.
So if evolution is true, (and ONLY if evolution is true) then this is where we should find quasi-turtles with distinctly transitional characters. Perhaps an apparent pareiasaur that is too turtle-ish to deny, but which still has undifferentiated pre-turtle traits, such as teeth.
'True' turtles don't have teeth,except in movies.
Otherwise, our transitional ancestor should still have looked like a turtle albeit without a shell, or,to confirm its relationship- it shouldn't have enough of a shell to qualify as a 'true' turtle yet. As I said in the 9th FFoC, the anapsid clade once included
"turtles on the half-shell or with no shell at all"
.
Modern turtle shells have two main components, the plastron and carapace. The former is the undercarriage made of conjoined ventral plates like those found on the sternum and pelvis of the Permian Macroleter.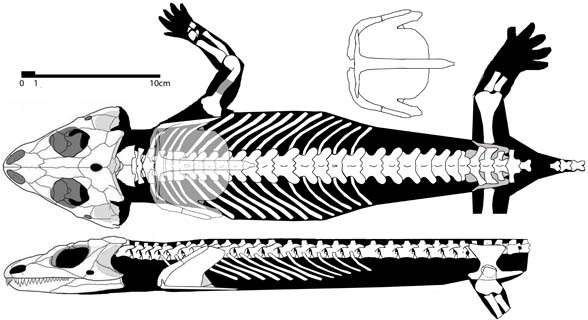 In later turtles, these would be fused in a keritinized matrix. If this was the first testudine adaptation, then the proposed ancestor of all turtles would be
Odontochelys semitestacea
, the earliest turtle yet discovered, and yes it still has teeth.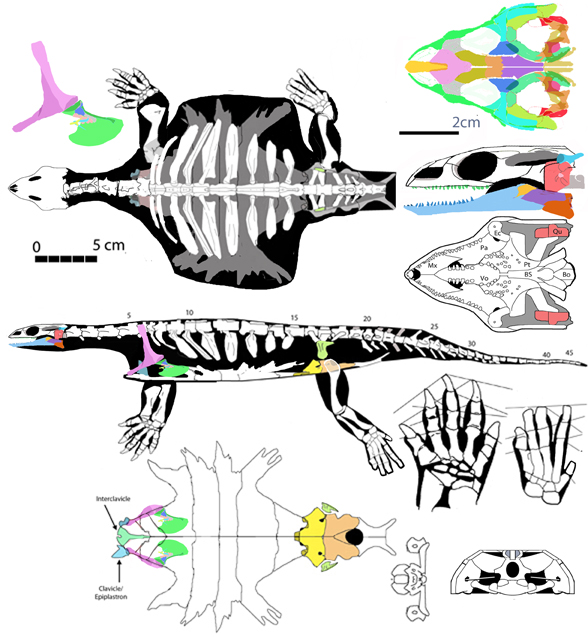 Either this animal developed the plastron first, or it begins a separate branch which has lost the top-half of its shell, meaning that an older ancestral link still has it.
The top piece, the carapace is composed of osteoderm scutes overlaid on a framework of broadly-expanded, extra-wide ribs. Both of these traits are dramatic adaptations, and wouldn't likely arise at the same time. Evolution is a matter of incremental, superficial changes slowly compiled atop consecutive tiers of fundamental similarities, and the two traits we're talking about could not have come about simultaneously. So we either need to find an already turtle-like basal species with either abnormally broad-bladed ribs, or one with an appropriate array of osteodermal scutes. Again, the fossil record provides both.
Here is a morphocline recently proposed by Lee (in press), featuring three pareiasaurs: A, Bradysaurus. B, Scutosaurus. C, Anthodon.
Some pareiasaurs (and para-reptilian diadectids) showed a tendency toward the development of both ventral plates and osteodermal armor. If this was the first testudine adaptation, then the proposed potential ancestor of all turtles would be
Chinlechelys teneresta
.
"More importantly, the reptile's dorsal ribs aren't fully fused to its shell - or carapace - as is the case in later fossils and in modern turtles."
However, embryological development tends to parallel evolutionary development with regard to sequential stages, leading to a field called 'evo devo'. Turtle embryos seem to broaden the ribs as the first of these traits. So if that is the first testudine adaptation, then according to the most recent computer analysis of morphological traits, the closest proposed common ancestor yet known for all turtles is
Eunotosaurus
.
"We reanalysed a recent dataset that allied turtles with the lizard-tuatara clade and found that the inclusion of the stem turtle Proganochelys quenstedti and the 'parareptile'

Eunotosaurus africanus

results in a single overriding morphological signal, with turtles outside Diapsida."
-
Transitional fossils and the origin of turtles
"Strict consensus cladogram of two trees of 483 steps showing the phylogenetic relationships of 'parareptiles' when turtles are included in the analysis."
None of these are 'supposed'. They are all factual, and it is even possible that all three of these show concordant progression in turtle evolution,if odontochelys represents an off-shoot with a lost trait. Millereta is another 'para-reptilian' anapsid (an immediately allied sister-clade) showing ventral plates, expanded ribs, and a propensity for dermal scutes,all at the same time. The only real contention there is the still unresolved question of whether anapsids lie within Diapsida or prior to it. Hard proof cannot exist without the genome of extinct para-reptiles, but we do have all the essential traits emerging in all associated taxa. So the systematists at
Palaeos
concur, that according to combined character analyses, anapsida is a eureptilian precurser, not a subsequent subset.
"The position of turtles among amniotes remains one of the oldest and most contentious problems in vertebrate systematics. Three hypotheses are viable (figure 1): turtles are the extant sister to (i) the crocodile-bird clade (Cao et al. 2000; Hugall et al. 2007), (ii) the lizard-tuatara clade (Rieppel & deBragga 1996; deBraga & Rieppel 1997; Rieppel & Reisz 1999; Li et al. 2009), or (iii) Diapsida (Gauthier et al. 1988; Lee 1997, 2001; Lee et al. 2008; Werneburg & Sà¡nchez-Villagra 2009). The first hypothesis is supported by most molecular-based analyses; the others are derived from morphological studies that include the wide range of fossils seldom available to molecular systematists. [b]
The seemingly disparate nature of the morphology-based trees has led some to dismiss morphological data in favour of the more consistent molecular signal."
(Hedges & Poling 1999; Tsuji & Mà¼ller 2009).
-
Transitional fossils and the origin of turtles
So you read a magazine from 2009 and misunderstood it to mean that genetics tears the tree of life apart. But multiple peer-reviewed articles from 2010 reveal that genetics is still considered consistent when confirming that same tree. Is there anything else you would like to be proven wrong about?
I assert that there are no earlier organisms that you can show that flowering plants came from, that turtles came from, that backbones came from, that bats, that fish, that trees"¦ I assert that you can't get textbooks and paleontologists to agree with you.
Actually I have paleontologists, geologists, developmental biologists, (embryologists) and geneticists all agreeing with me in peer-reviewed journals.
--> Flowering plants
"Our research indicates that the descendants of flowering plants may have originated during the Permian period, between 290 and 245 million years ago," says J. Michael Moldowan, research professor of Geological and Environmental Sciences.
..."Our work has shown that oleanane is lacking from a wide range of fossil plants," he notes, "but the chemical is found in Permian sediments containing extinct seed plants called gigantopterids."
That makes gigantopterids the oldest oleanane-producing seed plants on record, an indication that they were among the earliest relatives of flowering plants, concludes biologist David Winship Taylor of Indiana University Southeast, a co-author of the ACS study.
"This discovery is even more significant because we recently found gigantopterid fossils in China with leaves and stems that are quite similar to modern flowering plants," Taylor notes, further evidence that flowering plants and gigantopterids evolved together, roughly 250 million years ago.
-
NASA Science News
In a study published in today's issue of the journal Cell, Weigel and his colleagues report that floral patterning takes advantage of the same gene, called WUSCHEL or WUS, which scientists already knew was essential for patterning in shoots that form stems and leaves. "¦The Weigel-led study builds on previous work in his lab that resulted in the identification of the LEAFY gene as a "master switch" for flower development. Salk investigators had shown that LEAFY itself was sufficient to convert shoots to flowers. The finding not only suggested a plethora of potential agricultural applications, including accelerating flower and fruit production in crop plants, it also showed that flowers were modified leaves.
-
Daily University Science News
--> Turtles
--> Backbones
Proceedings of the National Academy of Sciences
In the early Cambrian, there were no 'true' fish, nor any other chordate more advanced than only the most primitive jawless, boneless, -sometimes skull-less notochord-types. This is another aspect of the fossil record that creationism cannot account for. Years ago, I included sufficient science links on the evolution of chordates, craniates, vertebrates, gnathostomes, and so on on my
web page
.
--> Bats
Although bats are one of the most diverse groups of mammals today, they are one of the least common groups in the fossil record. Bats have small, light skeletons that do not preserve well. Also, many live in tropical forests, where conditions are usually unfavorable for the formation of fossils. Thus we know little about the early evolution of bats.
Berkeley Museum of Paleontology
Here we describe a new bat from the Early Eocene Green River Formation of Wyoming, USA, with features that are more primitive than seen in any previously known bat. The evolutionary pathways that led to flapping flight and echolocation in bats have been in dispute, and until now fossils have been of limited use in documenting transitions involved in this marked change in lifestyle. Phylogenetically informed comparisons of the new taxon with other bats and non-flying mammals reveal that critical morphological and functional changes evolved incrementally. Forelimb anatomy indicates that the new bat was capable of powered flight like other Eocene bats, but ear morphology suggests that it lacked their echolocation abilities, supporting a 'flight first' hypothesis for chiropteran evolution. The shape of the wings suggests that an undulating gliding-fluttering flight style may be primitive for bats, and the presence of a long calcar indicates that a broad tail membrane evolved early in Chiroptera, probably functioning as an additional airfoil rather than as a prey-capture device. Limb proportions and retention of claws on all digits indicate that the new bat may have been an agile climber that employed quadrupedal locomotion and under-branch hanging behaviour.
Nature 2008
--> Fish
A popular hypothesis regarding chordate evolution suggests that an ancestral tunicate gave rise to the higher chordate groups through an evolutionary process (paedomorphosis) whereby structural and swimming characteristics of the tunicate tadpole larva were retained into adulthood. Through this process, the tunicate ancestral line was thought to have evolved into the larger swimming chordates. Modern molecular genetics evidence supports a different hypothesis -- that ancestral larvaceans are the ancestors probably to both tunicates and higher chordates.
-
BioMedia
In the nomenclature of systematics, 'fish' = 'chordate'.
--> Trees
The first plants to develop this secondary growth, and a woody habit, were apparently the ferns, and as early as the middle Devonian one species, Wattieza, had already reached heights of 8 m and a tree-like habit.
Other clades did not take long to develop a tree-like stature; the late Devonian Archaeopteris, a precursor to gymnosperms which evolved from the trimerophytes, reached 30 m in height. These progymnosperms were the first plants to develop true wood, grown from a bifacial cambium, of which the first appearance is in the mid Devonian Rellimia. True wood is only thought to have evolved once, giving rise to the concept of a "lignophyte" clade.
Seriously, I didn't have to go beyond
Wikipedia
for this one.
There has been a paleontological boon over the last twenty years or so, conveniently concordant with new revelations in genomics. If you had asked me these questions a decade ago, I might not have been able to answer. Obviously my inability to answer these ten years ago would not have implied that you might have been right on any point, nor that evolutionary science was essentially wrong until proven otherwise. Your position was already disproved many decades ago, and mine continues to be consistently vindicated. The point is that we have known this for more than a century. Any link still missing at this point is like the few jigsaw pieces still out of a mostly completed picture. I have every reason to believe that the last pieces I need are in that pile somewhere, and even if we never find those last few, we already know what the picture is. You're still determined to deny that that there even is a picture to be seen in the mostly completed puzzle.
Fabricated data and forged fossils go far in today's world, especially when they reaffirm the prime axiom that evolution"¦




You do realize that every scientist that looked at that, every one expressed doubts as to its authenticity.




Good for them. That proves my point that the peer review process is in a crisis, because what matters is the politics. The politics is what matters.
No, it disproves both of your points. Forged fossils obviously do not go far,since none of the scientists who looked at archeoraptor would endorse it as authentic. Obviously politics do NOT matter in science. So Czerkas bypassed the scientists and turned not to a peer-reviewed science journal, but to a popular magazine instead,much as you did yourself- in your attempt to deceive laymen because scientists would not be so easily fooled. Nor are they as corrupt as common men or clergy either.
There are volumes being published on fabricated data.
I will not argue that a sometimes deliberate or innocent falsehood will go unnoticed for some time, but science is a self-correcting process bent on critical analysis, the point of which is designed to expose any flaw. Meanwhile creationism is driven entirely by frauds, fallacies, falsehoods, and fakery, where the closest you can get to an honest claim is untestable nonsense pleading for magic in denial of evidence or logic. Just to prove this, can you name any evolutionary scientist who lied in the act of promoting evolution against creationism? Provide the name, the lie, and how we know it was a lie. Then name any professional creationist who did NOT lie when arguing for creationism over actual [natural] science. You just give the name, and I'll show you where and how he lied.
On that note, of all the claims of creationists in all their publications, is there even one you can show that is both supportive of your position and verifiably true?
Do you admit that it is dishonest to assert as fact that which is not evidently true?
Do you admit that it is unwise to assert absolute conviction even when there is evidence?
Do you admit that it is dishonest to pretend to know that which no one even can know?
Do you admit that it is dishonest to automatically and thoughtlessly reject evidence not yet revealed simply because it conflicts with your predetermined conclusions?
In five million years, at the pace it would take for one genetic substitution to replicate itself throughout the entire population such that you have millions of differences from chimps to human beings, to Homo sapiens, for that to happen in eight million years, -you pick your time frame. I don't care. It's mathematically impossible to get millions of changes... The reason it would be impossible to get the human genome from the ape genome, the reason it's impossible in your time frame is because the time it takes to get one substitution, one random mutation to replicate through an entire population takes x number of generations. And we now know the enormous differences between chimp DNA and human DNA. We can begin to quantify the challenge of the millions of changes that have to occur between chimps and humans, and it would take hundreds of millions if not billions of years.
I told you this was already explained by Prof. Kenneth Miller Ph.D. in his famous
destruction
of Intelligent Design, where he talks about the fusion of our chromosome #2 with chimpanzee chromosome #13. This is yet another point creationism can't even pretend to address.
Secondly, there are not "millions of differences" in this case. Don't forget the fact that humans are a subset of apes definitely and definitively.
Finally you're revealing a double-standard again in that you would need all other species to diversify in orders of magnitude faster than we did. Not eight speciations in eight million years, but a thousand specations in a century or so, just to preserve your flood myth, which we already know is indefensible.